Heaven's Herd is a celebration of some heart-centred horses who have left earth but not our hearts.
Can Do
I met Can Do in August 2009. She was in need of some one-to-one companion with a human and I was certainly in need of some one-to-one horse time. Can Do inspired me to create

Companion Connection Training

. She joined Heaven's Herd in April 2014. Dawn
Thunder
A great head shot of an "in your face" kind of horse. Thunder was Can Do's best friend during the time that I knew her. At first it was hard to visit Can Do without visiting Thunder but after awhile, Can Do took ownership of me and stated her boundaries... I was her's and she wasn't about to share me! Mostly, she was quite generous in that regard but she never seemed to mind leaving Thunder behind while we went to a nearby field to "gaze and graze".
Thunder taught me about boundaries because he was deemed a "pushy" horse. He taught me to stand my ground and make him respect my space. A charmer and a handsome horse he was... until that fateful day in January 2014 when he suddenly passed on to Heaven's Herd. Can Do and I both missed him terribly but we were fortunate to be able to grieve for him together. Dawn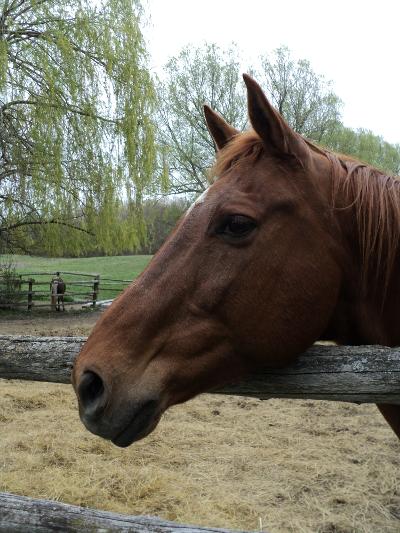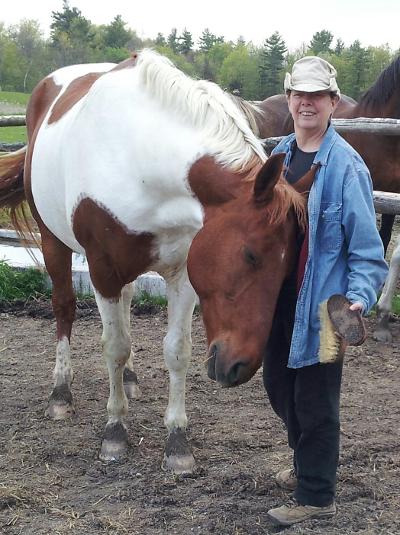 There can't be a better picture of Owen (and me!) than this one! When Can Do passed through the gate into Heaven's Herd, I was originally matched up with Liza. However, Owen had other ideas. As the leader of his harem of two (Liza and Cleo), he would move Liza away from me whenever I'd come near. I only knew him on a one-to-one basis for a few short months but I suspect he'd been witnessing that the "grass was greener on the other side of the fence" as he watched Can Do and I together. Can Do greeted me with this "heart to horse connection", too. Coincidence, some might say. I believe horses know when you love them.
He passed through the gate to Heaven's Herd in September 2014. Dawn
Liza
This is one of the best pictures of Liza that I have. Liza passed through the gate to join Heaven's Herd in the fall of 2016. I was originally matched to her after Can Do died in April 2014 but Owen had other plans for me. When he passed in September 2014, I began my companionship with Liza. She was known to be an aloof horse so, with that in mind, I took my time to make friends with her so she would know that I was there for her and not present to ask anything of her. It took a few months of patiently being in her presence until I became part of her herd and she accepted me. It was a winter day, as I sat in the snow in her paddock when I energetically asked her to join up with me. It was extraordinary to watch her decide. From September 2014 to November 2016, I visited her weekly and she taught me the value of persistence and perseverance. Someone else may have given up on Liza because she was aloof but "keeping on, keeping on" proved my consistency and constancy. She was a true friend before she joined Heaven's Herd.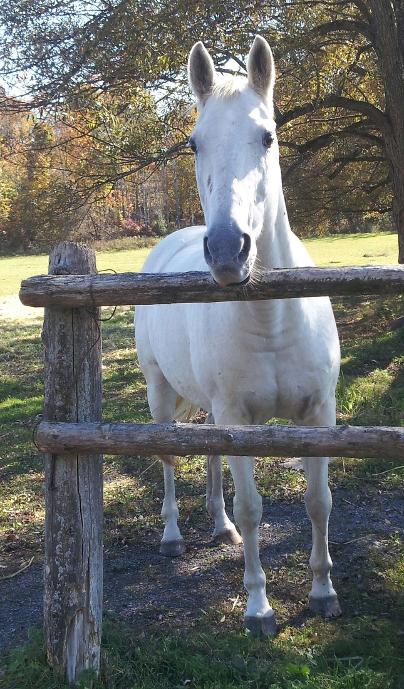 Mango
Pictured here with Lynn, Mango joined Heaven's Herd in October 2018. In the fall of 2017, Mango became Lynn's equine teacher as she began her

Companion Connection Training

. Lynn became Mango's constant companion until he passed through the gate at the grand age of 33! Mango, you are missed by Val (owner), Sarah & Nemo and especially by Lynn.