Companions and Their Horses
As close to coming from the horse's mouth as possible, t
estimonies from
companions who have met their match!
Companionship with horses couldn't exist withouth the generosity of the horse owners in sharing
their equine friends with companion graduates.
They are:
Gonzo -- Jocelyn Grey, London - Janet Burgess, Mango & Nemo - Valerie Westgate

Dawn and Gonzo

My journey to companionship has been fascinating, humourous and comforting. Gonzo is a joy to be with! I look forward to our weekly visits.
NOTE: Dawn is our first "test" companion. She became Gonzo's companion in the Summer of 2016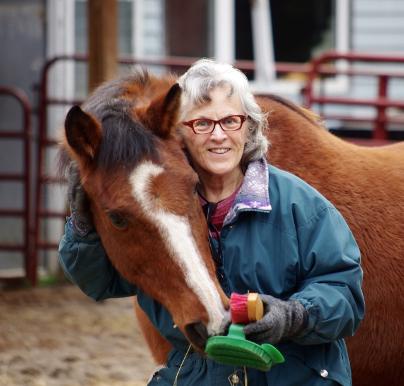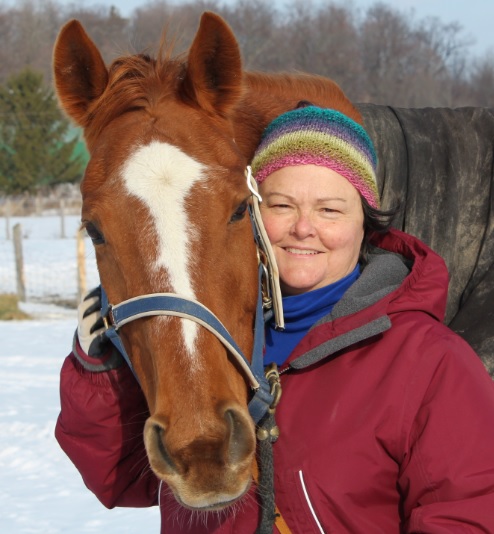 Cindy and Glad
It is very rewarding to have earned Glad's friendship through mutual respect, trust and affection.
NOTE: Cindy enjoys her time with Glad and has since become a companion to two other horses: Dimer and Paddy. Sadly, Dimer passed over the Rainbow Bridge in the spring of 2018. Cindy still spends her time with Glad, who has changed considerably since having Cindy as her companion. Paddy benefits from Cindy's visit, too!
Cindy became Glad's companion in the fall of 2016.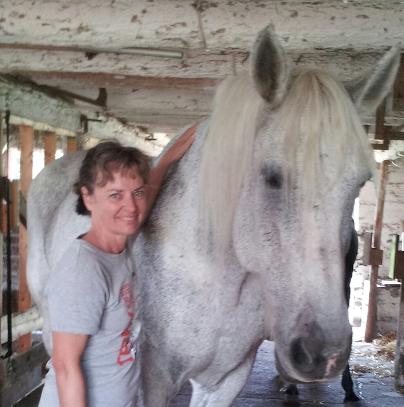 Michelle and London

I appreciate the reflective approach to the training which helps me to patiently listen and respect what London is telling me. It's a very special feeling to be able to communicate with him.
NOTE: Michelle became London's companion in the fall of 2016. Michelle took the program because she wanted to feel more comfortable around horses as she volunteers at a horse rescue near her home in Ottawa. As a result of the program, she fell in love with London and continued to travel every week to visit him. The distance and commitment was a challenge so she made the difficult decision to give up her companionship. Michelle has since made a home for Wyatt, one of the rescue horses at the farm where she volunteers. London now has a new companion -- see below.
Ellen and Gonzo
It doesn't matter what kind of day I've had before arriving, my weekly visits with Gonzo leave me present and mindful. He gives me a sense of perspective.
NOTE: Ellen became Gonzo's companion in the fall of 2016. Gonzo is currently the only horse who has two companions who visit him at different times during the week.
Lynn and Mango

Awesome experience! Never thought I could actually do this but, over time, I've become very comfortable with Mango. It is still an on-going learning experience but well worth it!
NOTE: Lynn became Mango's companion in the winter of 2017, just before Christmas. She enjoyed developing a relationship with this 33-year old pony. Sadly, Mango passed away in the fall of 2018 and Lynn is currently a companion to Jet, a new horse to the horse companion herd.
Sarah and Nemo
Being a horse companion enlightens us to a world beyond words. It teaches us to listen/speak with all of our senses. Giving positive energy and love to horses and animals is the greatest gift we can give.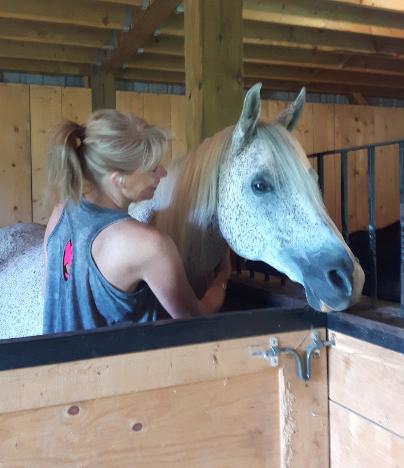 Alex and London
What I love most about this program is that it is an opportunity to simply "be" with horses. There is no pressure on the human -- or the horse -- to do anything in particular. It is simply about enjoying each other's company and learning to engage in a relationship that is mutually satisfying. And the bond that begins to develop is very special.
NOTE: Alex became London's companion in the summer of 2018.
Leslie & Rudy the Rock
Heart to Horse Connection is a great program for anyone who wants to become a companion to a horse; to make a meaningful connection with a magnificent animal.
NOTE: At the time of this photograph, Leslie and Rudy were getting to know each other after a short time after becoming companions.