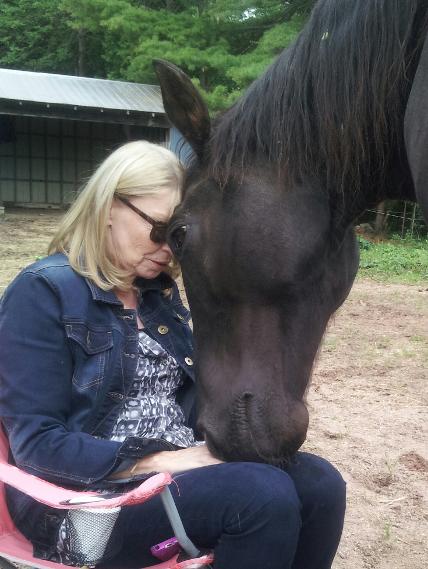 The picture above is of MC and Patricia taken on that evening in June 2016. While such a remarkable experience as this picture must have been for Patricia (only she and MC know for certain!), we are hold the sacred space of possibility that something special will occur. Please join us!
(Due to insurance reasons, we are unable to have the horses at liberty while the meditation occurs.)
Sharing Sacred Space is an evening of meditation in the powerful presence of horses.
This unique offering of meditation has developed out of an unexpected experience that occurred at The Gathering Herd in June 2016 at Jocelyn Grey's Heart Centered Reflection.
On that particular summer's evening, we gathered for our monthly storytelling circle in the presence of MC, Gonzo and Spirit. While there were stories told, (check out the pictures on The Gathering Herd page!), I can't remember any of them because MC and Gonzo captured our attention by holding space for us. From that extraordinary experience, it was apparent that something needed to be offered to share it . . . hence Sharing Sacred Space.
It will be a lead meditation starting at 6:30 p.m. 1st Wednesdays of the month on these dates:
June 7, July 5, August 2, September 6.
COST: $10 per session.
Horse Centred Reflection
(2747 Dixon Road, off Latimer Rd,
north of Elginburg on Sydenham Road)
Everyone welcome!
Please bring your own chair.
For more information, contact us!