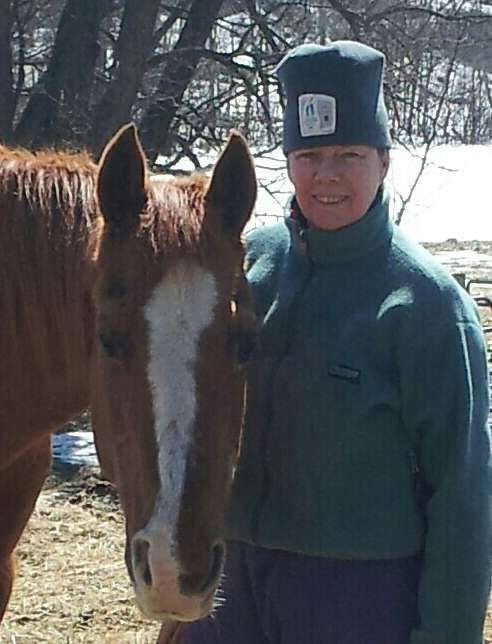 Can Do Care Foundation is named in honour of Can Do, pictured here with me, the day before she died at the grand old age of 31 years on April 7, 2014. I met Can Do in August 2009 when I asked a friend if there might be a horse that needed company where she boarded her horse. The boarding stable owner, Dorothea Trip of Chilly Night Farm, chose Can Do, a 26-year old unrideable mare and . As I didn't ride, it seemed a perfect match.
In the early days, I suspect that Can Do wondered why I was coming out to spend time with her. She was a patient teacher of patience and our "grazing and gazing" days began and continued over the next 4 1/2 years. From the heat of that first summer through all the the cool fall afternoons, wild wintery days and the joys of springtime, Can Do and I spent our time together learning about each other. She would often doze in the sunshine while I lovingly groomed her bright-penny copper coat. We would go for walks in the fields; though never far because her best pasture pal, Thunder, was always heard in the near distance calling out to her. Over the years, Can Do would greet me with her gesture of love and affection... she would bridge the distance between herself and my out-stretched hand and put her head to my chest and give me a loving rub.
It was this relationship with her that inspired me to start Heart to Horse Connection because I believed that there were other horses that needed company and other humans who needed the special connection that comes from being in the company of a horse. As the idea developed into a business, I came to realize that to honour my first horse friend who gave me a great gift of friendship, I wanted to give back so others who may not have the financial resources to do what I have done.
Currently, the Can Do Care Foundation is in development and will offer sponsorship to eligible individuals for Companion Connection Trainingand, if funds are available, will assist horse and people in need. If you are interested in learning more about helping this as-yet-established foundation, please "Contact Us" and let me know what ideas you might have or let me share my ideas with you.
Many thanks!
Dawn Sadler, Founder - Heart to Horse Connection